Most often, people always try to implement a diet at some point in their life. In fact, they even implement a diet routine like not eating the entire sleeve of oreos in one sitting or avoiding croutons in salads, is still a step in right direction.
But there are some people who have their diets perfectly mastered and that they are sharing their secrets.
Former adult Film Star Jenna Jameson who lost 60 pounds after giving birth to her daughter Batel Lu in April 2017. She opened up about her amazing weight loss and spilling the beans about what helped her and how she achieved it.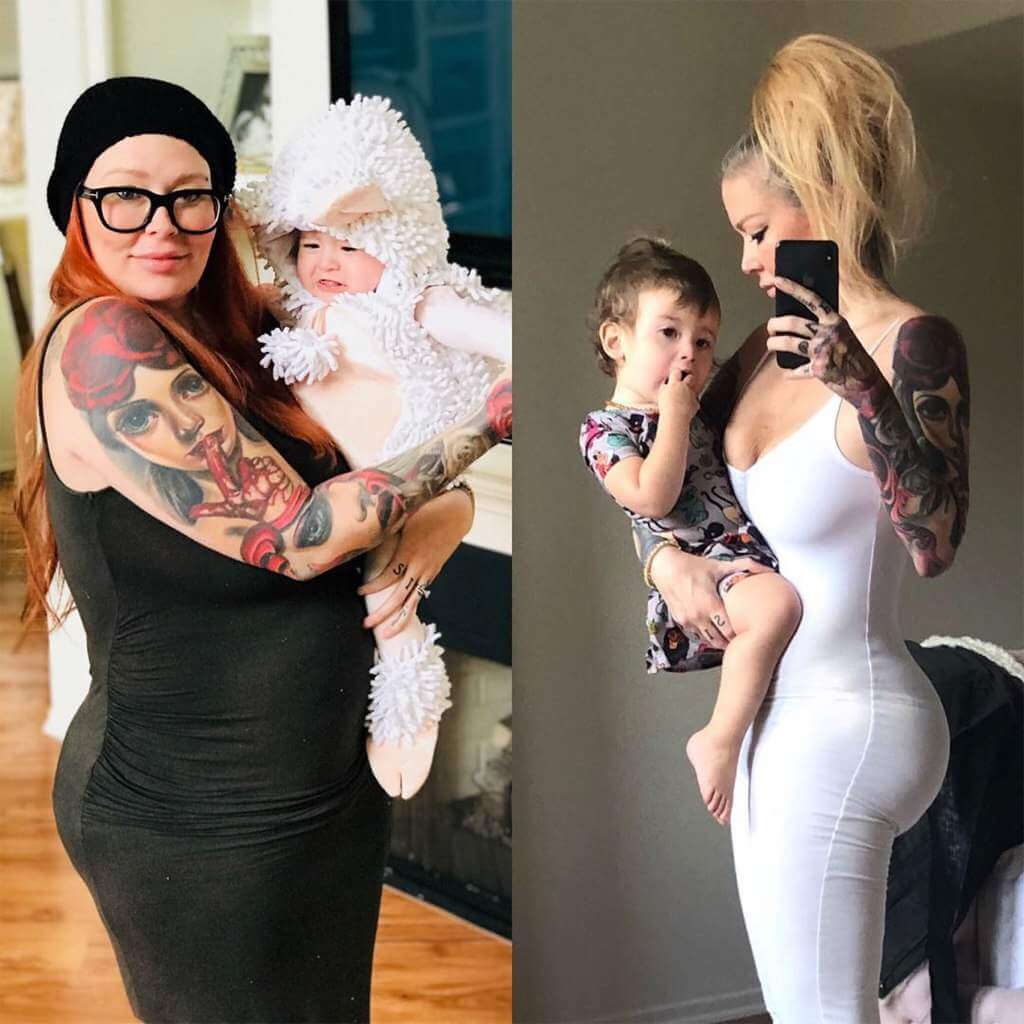 She thanked to her Keto diet which excluded sugar and grains consisting lots of good fat and kept carbs low and protein moderate. Jameson can't resist herself from sharing diet tips after shedding post-baby weight using Keto diet.
In an instagram post, the mother of three, showed her side-by-side shots before and after giving birth.
https://www.instagram.com/p/Bmq9laIAYmx/?utm_source=ig_embed
In the same instagram post, 44 year old Jameson wrote, "Let's talk menu. She was constantly asked through lots of messages that what she ate in day to stay in ketosis. She replied, "Well, it's underwhelming. She is one of those odd people who doesn't need variety."
She says, "Every morning she eats exact the same thing. 3 eggs with cheese and an avocado". She explained, "lunch is her biggest meal, she always eats arugula salad, grilled asparagus or zucchini with some kind of meat (generally a hamburger patty or grilled chicken) she then snacks whenever she feels hungry (usually on almonds or macadamia nuts, even cottage cheese sometimes) that's it!"
She continues as she moves onto her fasting option of her plan. She further adds, "Then she begins her fasting sharply at 6 pm. She drinks plenty of water until she goes to sleep at around 10 pm. She drinks coffee at 8 am and ends her fasting at 11 am. That's it! No magic, no fancy diet… just clean whole organic foods."
https://www.instagram.com/p/BmhIC8rALnx/?utm_source=ig_embed
"She waved bye bye to processed or packaged foods a long time ago. This is 60 pounds that are gone. It can be done! She is always asked how she got the will power… she says, well, when you see the results like this in 4 months, it powers you!!"
Jameson in an earlier instagram post said, "She feels like keto paired with #intermittenfasting has been her riddle solver! She has officially weaned off her poison sugar free creamer and is drinking black coffee now with stevia and coconut oil!"
Another Similar Post For Keto Weight Loss – Sherri Shepherd's Weight Loss Journey
Last month, Jameson shared her experience what it felt like to start the keto lifestyle. She said in her instagram post, "that has been really a strong week for her keto lifestyle results. She is no longer losing fat, she is tightening. She sees and feels the biggest difference in her arms and back. That's all finally started to go.
She feels weight in her arms which is a hormonal thing and she can say the same thing to all the ladies wondering how she stays committed to no carbs. But, your body starts to subside and adjusts after the first week or so…"
The former porn star shared heavily filtered photo on her instagram claiming her diet – low carb, high fat and moderate protein – also helped eliminating inflammation in her body.
https://www.instagram.com/p/BrS9FCtBQuD/?utm_source=ig_embed
After losing 60 pounds through keto diet, her fans are interested in knowing what she exactly did to slim down in such a big way. The former 44 years old star happily shared her tips and tricks.
Jameson laid out few tips for all those who are looking to follow her dieting footsteps. Here are her dieting tips outlined below.
She stopped snacking
Jameson explains that she by now allows herself to skip meals and remain hungry for period of time. Also, she stops eating as soon as she gets satisfied.
She walks where she need to go
She advises to perform little exercise each day that is never ever going to hurt!
Intermittent fasting
Jenna says she never eats between 6 pm and 11 am. She keeps herself full by drinking plenty of water.
Just say no to processed foods
Jenna says that she excluded all the processed foods off from her kitchen and will not feed them to her family any longer.
When in doubt, eat at home
"She barely ever eats out," she says.
Be kind and gentle to yourself
"She accepts that slow progress is PROGRESS. Most importantly, she treats herself with love and patience," she later added.
Avoid the snack aisle
Jameson says she only shops the perimeter of the market.
Reframe your attitude toward food
"She considers eating as nourishing not as reward," she shared. She also adjusts her food according to how her food is reacting. She's always in tune with her foods.
Bust through plateaus
She also adds, "If she is stalled, she eats less calories or cut diary."
Jenna Jameson's inspiring Instagram post –
Launched New Instagram Account Devoted To Her Diet
After spelling ketogenic diet gospel on her instagram account, Jenna decided to take things to new level. She launched a new instagram account devoted to her diet. The made its debut in the December 2018.
Jenna Jameson, the mom of two, took insta stories where she shared a snapshot of then-empty feed and tease, "You best believe I started a keto instagram."
This way she will keep her fans updated on her on-going diet and progress.
Check out effective tips for weight loss – Lose Weight Without Doing Exercise